TotalEnergies Corbion, TotalEnergies Corbion, a global technology leader in Poly Lactic Acid (PLA), has appointed Kumru Kimya, a polymer trading company, as a non-exclusive agent in Turkey for its Luminy® PLA portfolio. This collaboration allows the Turkish market to have an even better access to the benefits of PLA bioplastics.
Kumru Kimya is a biopolymer trading partner in the Turkish market, and for almost a decade has been servicing companies that are interested in sustainable polymer solutions. "TotalEnergies Corbion's product portfolio will be an important asset in our overall product offering, especially during this era in which the circular economy becomes the ultimate path forward in the plastic industry" said Mert Kumru, General Manager at Kumru Kimya, "the quality and versatility of the Luminy® PLA portfolio will help us to unlock various new products and applications where biobased and/or compostable solutions are required."
"We are delighted that Kumru Kimya will be our representative in Turkey" says Hugo Vuurens, Senior Business Director EMEA at TotalEnergies Corbion, "Turkey is an important manufacturing base for many plastics products with over 7.000 known converters and much innovation is taking place there. Our cooperation with Kumru Kimya will significantly contribute to understanding and meeting the fast rising demand for biopolymers in Turkey. Luminy® PLA will also contribute to reducing end-of-life concerns."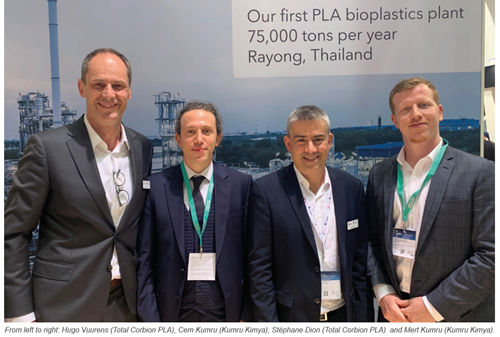 From left to right: Hugo Vuurens (TotalEnergies Corbion), Cem Kumru (Kumru Kimya), Stéphane Dion (TotalEnergies Corbion) and Mert Kumru (Kumru Kimya).