GORINCHEM, the Netherlands — August 29 2023 — TotalEnergies Corbion, makers of Luminy® PLA (Poly Lactic Acid) and leaders in biobased alternatives to fossil-based plastics, will present their 30% recycled content PLA grade to the UK market at the largest plastics show in the region, known as Interplas, September 26-28. The company's involvement in the show coincides with UK's announcement of several new regulations limiting many single-use plastic items and implementing a plastics tax for items made without recycled content.  
Amidst dynamic shifts in regulations, TotalEnergies Corbion is reinforcing its commitment to addressing the challenges posed by the evolving plastics landscape by offering established innovative and eco-friendly solutions the company has developed. At the exhibition, the company intends to focus on solutions that not only comply with these new regulations but also offer sustainable benefits beyond what is required by the new legislation.
TotalEnergies Corbion's recycled PLA grade (rPLA) has up to 30% certified recycled content, helping customers create sustainable products and avoid the UK's Plastics Packaging Tax that applies to all items made from virgin plastics. Using PLA waste streams to make virgin PLA is just one of the ways the company contributes to the circular economy. In addition to being recyclable, Luminy® PLA offers a carbon footprint that is 75% lower than traditional plastics.
Single-use products made from polystyrene (PS) have received extra scrutiny from the upcoming UK Single Use Plastics (SUP) regulation. Luminy® PLA is an excellent alternative to these products and can offer similar functional performance in the end-use application. TotalEnergies Corbion has already paved the way with PLA-based alternatives, replacing traditional plastics. These alternatives, distinguished by high performance, comparable functionality, a lower carbon footprint, and compostability underscore the company's proactive approach to driving the industry toward a sustainable future.
"As the world shifts toward reusability, our solution has reusable and recyclable options, including cutlery. Our emphasis on low carbon footprint alternatives underscores our dedication to combining convenience with environmental stewardship," said Frank Duijzer, Business Development Manager at TotalEnergies Corbion. "More than cutlery, we are redefining food packaging with compostable solutions. As the UK's regulations target plastic items used for 'prepacked food' our biobased, compostable materials are great options for sustainable packaging".
TotalEnergies Corbion's commitment to sustainability is underscored by a dedication to collaboration. With a readiness to partner with both private and public sectors, the company bridges the gap between visionary goals and tangible action. As the plastics industry continues to transform, the company's expertise in pioneering bioplastics positions it as a reliable ally in navigating the evolving demands of both industry and the environment.
The TotalEnergies Corbion team will be at the Interplas plastics exhibition in Birmingham, UK from September 26-28. Meet them and learn more about PLA bioplastics in Hall 4 on stand E24.
END PRESS RELEASE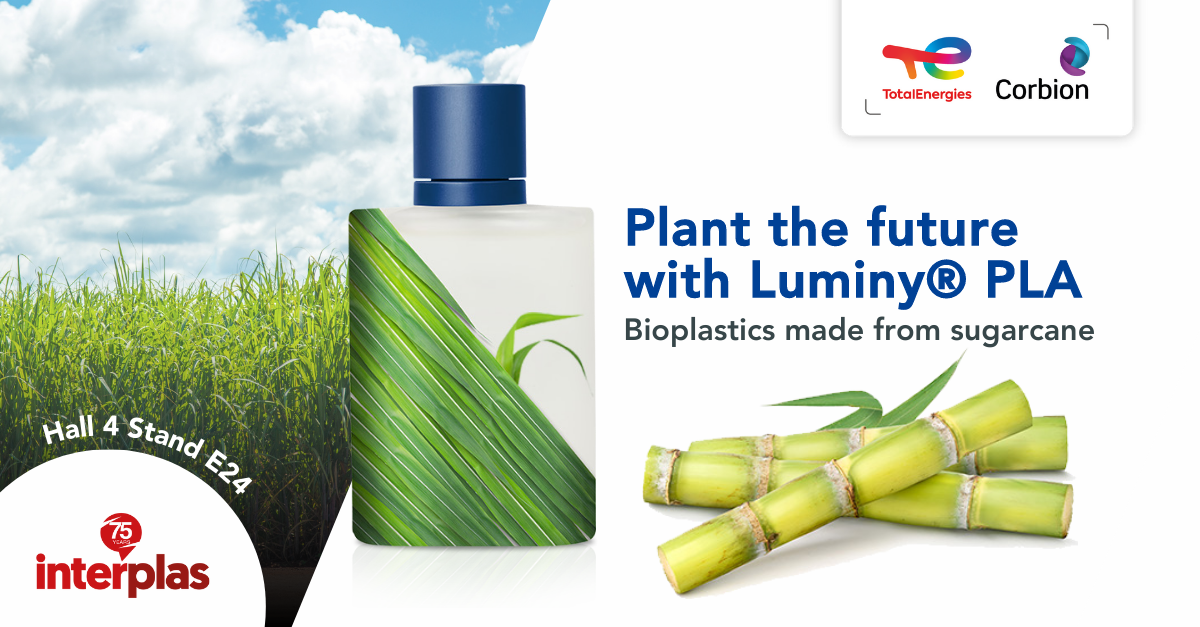 TotalEnergies Corbion will be at Hall 4 Booth E24 at Interplas in Birmingham from 26-28 September 2023.
For more information please contact:
Rui Veras
Marketing Communications Manager
M +31 629 055 522
E rui.veras@totalenergies-corbion.com
Francois de Bie
Vice President Global Marketing
M +31 611 716 895
E francois.debie@totalenergies-corbion.com
About TotalEnergies Corbion
TotalEnergies Corbion is a global technology leader in Poly Lactic Acid (PLA) and lactide monomers. PLA is a biobased and biodegradable polymer made from annually renewable resources, offering a reduced carbon footprint versus traditional plastics. The Luminy® PLA portfolio, which includes both high heat and standard PLA grades, is an innovative material that is used in a wide range of markets from packaging to consumer goods, fibers and automotive. TotalEnergies Corbion, headquartered in the Netherlands, operates a 75,000 tons per year PLA production facility in Rayong, Thailand. The company is a 50/50 joint venture between TotalEnergies and Corbion. www.totalenergies-corbion.com